| | |
| --- | --- |
| Price: | $29.95 |
| Availability: | in stock |
| Prod. Code: | RS-EXMAN2-9 |
On this page you will find supplies that can be used for making your DIY ring creations.
Expanding Ring Mandrel: The expanding ring mandrel is made from stainless steel bar stock and completely CNC machined for a precision fit and almost zero runout.
Mandrel Sizes:
2-9, 6-13, 6-9W, 10-13W, 7 1/2- 11 1/2. These sizes have a 1/2" shank and will fit in a 1/2" drill chuck or other lathe chucks which can clamp to 1/2" diameter.
Size 12-15 will fit into a 5/8" drill chuck or other lathe chucks.
The 2-9 and 6-13 ring mandrels have a .150" step where the 6-9 Wide and 10-13 Wide have a .300" step.
Our expanding mandrels come with hex keys.
Simply chuck up the ring mandrel, slide on the ring core and tighten the hex key to secure the core from spinning. Use minimum pressure to keep the ring core from rotating on the mandrel. This will also ensure the mandrel does not distort the ring when clamped. The expanding ring mandrel will significantly reduce runout / concentricity issues between the wood band and metal core, which you would encounter when using wood jam chucks or expanding rubber sleeves (sanding sleeves).
It can be used for turning, sanding and finishing your ring creations. For those who make all wood rings, this is the perfect addition to your collection of tools.
Use care to not overexpand the mandrel which can cause permanent set in the diameter. If the mandrel does become 'over-expanded', simply remove the screw, compress the stepped segments together using a hose clamp to restore the original size.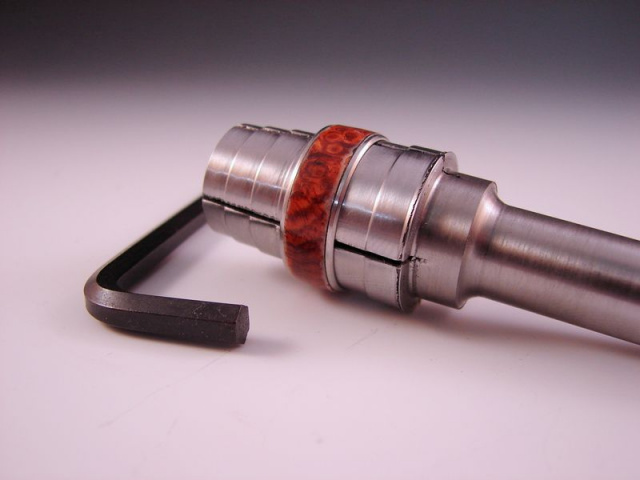 PLEASE SEE HOMEPAGE FOR STATUS OF BANGLE CORES.
To Contact Us: wildwooddesignsco@gmail.com
OUR PRODUCTS ARE DESIGNED AND MADE IN COLORADO