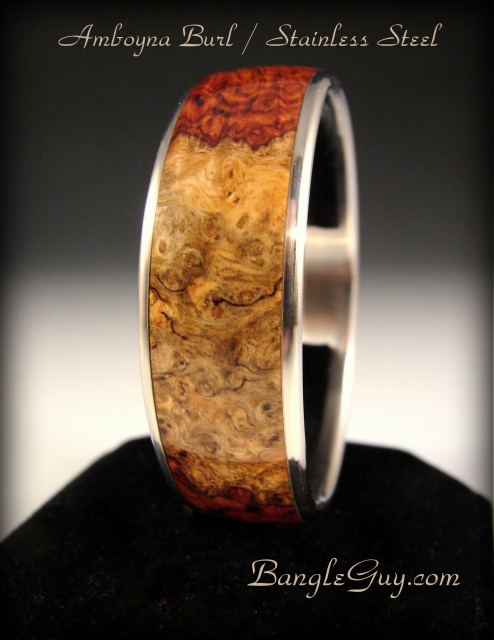 Welcome to Wildwood Design, Home of the BangleGuy!
On our website, you will find a great assortment of wood and metal products for the Do-It-Yourself Artisan.
If you are visiting our website for the first time, learn more about WildWood Design by reading our spotlight in the US Airways Magazine.
At BangleGuy.com, we offer metal components, stabilized & resin cast wood blanks, video and written instructions, and tooling for DIY artisans to make unique bangles, rings, pendants and Christmas ornaments.
Best of all, our metal products are CNC machined in Western Colorado (Made in USA)! Cook up some popcorn and have fun watching our video series on YouTube! We are always working on new videos, and on our YouTube Channel you will see us in action making bangles, rings and ornaments. For those looking to take their hobby to the next level, we also offer lots of great advice and tips for making and selling your finished pieces. It's true, you can earn extra income as a woodturner! Let us help you learn how - HERE.
To learn about our products and the materials used, go to the About Us tab.
What's NEW?
We have teamed up with the great folks over at Bear Tooth Woods to

bring you more options! BearToothWoods.com

now carries our full line of bangle products, as well as tools and supplies you'll need to make quality turned items!

Bangle starter kits are now for sale! We offer a three piece stainless steel or copper kit for wood turners wanting to get started making bangles.
Signup for our Newsletter! Follow along with WildWood Design product developments and get some great coupon savings. Just subscribe to our periodic newsletter HERE.

We have a new ring chart,

Download our ring size chart HERE.
Learn more about manufacturing in Colorado by watching a short YouTube video which features our very own BangleGuy at the 42 second mark, CLICK HERE to start the video.

VOLUME DISCOUNTS:

For volume discounts we have three Promotional codes that can be used based on your order totals. Use the following Discount Codes for:

Orders totaling $150 to $250 - Save 5% on your entire order. Use Discount Code 5FOR150

Orders totaling $250 to $350 - Save 8% on your entire order. Use Discount Code 8FOR250

Orders totaling $350 and above - Save 12% on your entire order. Use Discount Code 12FOR350
(Discount Codes must be entered in the Discount Code box which can be found on the lower left hand corner of the Shopping Cart page. Codes must be entered Prior to checking out to apply.)
We continue to actively post information on our Facebook page, click on the link below to follow our progress
Today's date is 2/11/16. If you have any questions the best way to contact us is via email at sales@bangleguy.com , or you can also call the office at 970-901-5071. Happy Turning!
Like us on Facebook!
We actively post our latest creations on Facebook so check in often to see what is happening at WildWood Design!
Wood Blanks Professionally Stabilized using: