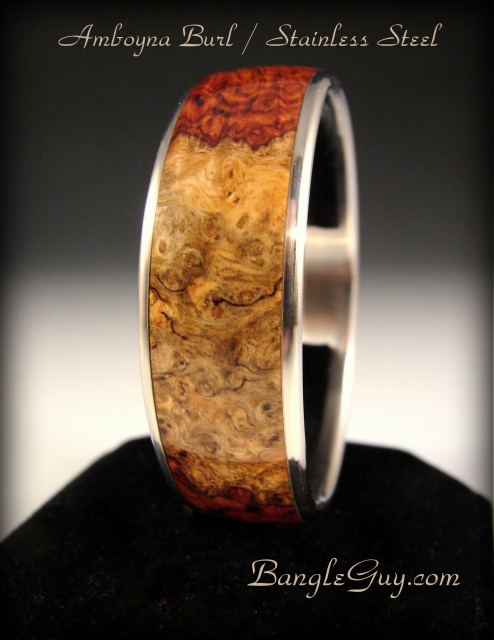 Welcome to Wildwood Design, Home of the BangleGuy!
Happy Holidays from the WildWood Design team! We hope you find peace and enjoyment from the upcoming Holidays.

We will be closing our Webstore on December 16th and reopen December 30th. We will also suspend International shipping starting December 9th through January 3rd (USPS is notoriously slow during the upcoming month and we will not be able to ensure timely delivery to foreign destinations).
Our recent sale was a huge success, but it also cleaned us out of many regularly stocked items. We will be working to restock wood blanks, mandrels and add some new items over the coming months. Look for us at the upcoming AAW show in Pittsburgh this June! Have a wonderful holiday and safe travels if you are visiting friends or family.

God Bless,
Eric

Save $10 on your next purchase of $50 or more at BangleGuy.com** by entering 10BUCKS (one word all caps, no spaces) in the Discount Code box (which can be found on your shopping cart page, lower left hand corner, after you have selected one item for purchase).

** Offer expires December 15th, and cannot be combined with volume discounts, no rain checks or discounts for prior purchases.
On our website, you will find a great assortment of wood and metal products for the Do-It-Yourself Artisan.
If you are not a woodturner and are visiting our website for the first time, or if you recently saw our ad in the US Airways Magazine - Please visit the US Airways Tab HERE. This page will give you details about purchasing finished products from some terrific woodturning artisans from around the world.
At BangleGuy.com, we offer metal components, stabilized & resin cast wood blanks, video and written instructions, and tooling for DIY artisans to make unique bangles, rings, pendants and Christmas ornaments.
Best of all, our metal products are CNC machined in Western Colorado (Made in USA)! Cook up some popcorn and have fun watching our video series on YouTube! We are always working on new videos, and on our YouTube Channel you will see us in action making bangles, rings and ornaments. For those looking to take their hobby to the next level, we also offer lots of great advice and tips for making and selling your finished pieces. It's true, you can earn extra income as a woodturner! Let us help you learn how - HERE.
To learn about our products and the materials used, go to the About Us tab.
What's NEW?
Signup for our Newsletter! Follow along with WildWood Design product developments and get some great coupon savings. Just subscribe to our periodic newsletter HERE.

VOLUME DISCOUNTS:

For volume discounts we have three Promotional codes that can be used based on your order totals. Use the following Pomo codes for:

Orders totaling $150 to $250 - Save 5% on your entire order. Use Promo Code 5FOR150

Orders totaling $250 to $350 - Save 8% on your entire order. Use Pomo Code 8FOR250

Orders totaling $350 and above - Save 12% on your entire order. Use Promo Code 12FOR350
Today's date is 12/1/14. If you have any questions the best way to contact us is via email at bangleguy@gmail.com , you can also call 970-245-0628, however we work at day time jobs (since WildWood Design is not our full time occupation) and we may not call you back right away. Happy Turning!
Like us on Facebook!
We actively post our latest creations on Facebook so check in often to see what is happening at WildWood Design!
Wood Blanks Professionally Stabilized using: