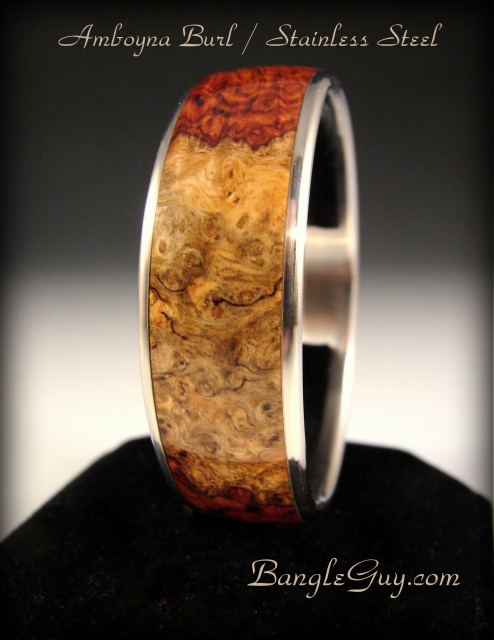 Welcome to Wildwood Design, Home of the BangleGuy!
WE WILL BE CLOSING OUR STORE ON SEPT 9TH TO PREPARE FOR THE ROCKY MOUNTAIN WOODTURNING SHOW. WE WILL REOPEN ON 9/15. COME SEE US IN LOVELAND, CO.
On our website, you will find a great assortment of wood and metal products for the Do-It-Yourself Artisan.
If you are not a woodturner and are visiting our website for the first time, or if you recently saw our ad in the US Airways Magazine - Please visit the US Airways Tab HERE. This page will give you details about purchasing finished products from some terrific woodturning artisans from around the world.
At BangleGuy.com, we offer metal components, stabilized & resin cast wood blanks, video and written instructions, and tooling for DIY artisans to make unique bangles, rings, pendants and Christmas ornaments.
Best of all, our metal products are CNC machined in Western Colorado (Made in USA)! Cook up some popcorn and have fun watching our video series on YouTube! We are always working on new videos, and on our YouTube Channel you will see us in action making bangles, rings and ornaments. For those looking to take their hobby to the next level, we also offer lots of great advice and tips for making and selling your finished pieces. It's true, you can earn extra income as a woodturner! Let us help you learn how - HERE.
To learn about our products and the materials used, go to the About Us tab.
What's NEW?
Today's date is 8/27/14. If you have any questions the best way to contact us is via email at bangleguy@gmail.com , you can also call 970-245-0628, however we work at day time jobs (since WildWood Design is not our full time occupation) and we may not call you back right away. Happy Turning!
Like us on Facebook!
We actively post our latest creations on Facebook so check in often to see what is happening at WildWood Design!
Wood Blanks Professionally Stabilized using: