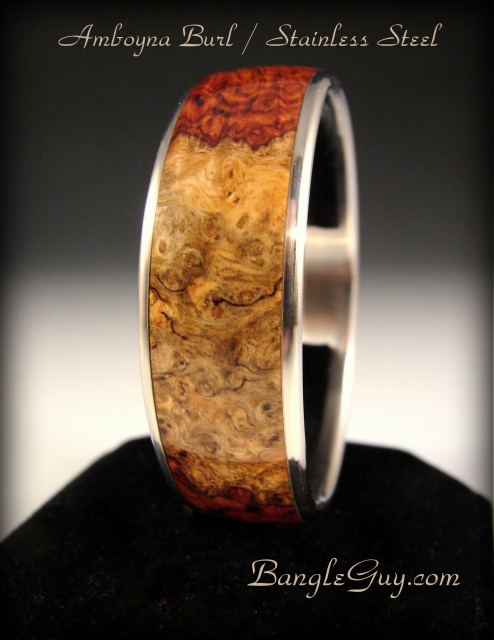 Welcome to Wildwood Design, Home of the BangleGuy! On our website, you will find a great assortment of wood and metal products for the Do-It-Yourself Artisan. We offer metal components and tooling for making bangles, rings and cuffs (coming soon).
Visit the Bangle Supplies tab to find metal cores, stabilized wood blanks and everything you'll need to make beautiful bangles. All of our metal products are CNC machined in Western Colorado (Made in USA)! Watch our new video series on YouTube! Here you will see us in action making a bangle and pointing out all of the important steps in the process. Check out the Your Bangles tab to see what your fellow wood turners have been making!
To learn about our products and the materials used, go to the About Us tab. Look for Stainless Steel & Titanium wedding ring cores as well as men's Copper Cuffs coming this summer.
What's NEW?
We have just crossed over our one year anniversary and wanted to say "Thank You!" to our growing support and customer base. The past year has been exciting for us and we have seen many changes in our product offerings. The bangle design is now a very elegant, lightweight, customizable foundation for high end jewelry. The ring cores are progressing well and will be available soon in stainless steel and titanium. Other important happenings;
Please note that we have recently updated our bangle tutorial with some important process changes, you can download it for free here.

The first run of titanium and SS wedding ring cores is complete with sizes 9 thru 13 run. We will be making a few expanding mandrels and a tutorial in the coming weeks. We are starting off with whole sizes only, with 1/2 sizes run once we receive requests that total more than 20.

We are uploading a video series on YouTube! Follow along HERE

VOLUME DISCOUNTS: For volume discounts we have added three new Promotional codes that can be used based on your order totals. Use the following Pomo codes for:

Orders totaling $175 to $299 - Save 8% on your entire order. Use Promo Code 8FOR175

Orders totaling $300 to $499 - Save 12% on your entire order. Use Pomo Code 12FOR300

Orders totaling $500 and above - Save 15% on your entire order. Use Promo Code 15FOR500
We continue to be actively posting information on our Facebook page, click on the link below to follow our progress.

We are planning a pilot run of Wide bangle cores in about 1 to 2 months. These will have a wood width of 0.75" and will be offered in size 7.5 and 8 CU & SS only.

We are in the middle of lacrosse season and doing some coaching on the U10 Girls team. Please be patient with us as it is taking a little longer to get items shipped.
Today's date is 5/10/13. If you have any questions feel free to contact us at bangleguy@gmail.com or call 970-245-0628. Happy Turning!
Like us on Facebook!
We actively post our latest creations on Facebook and may even offer sale coupons there in the future, so check in often to see what is happening.
Wood Bangle Blanks Professionally Stabilized with