| | |
| --- | --- |
| Price: | $29.95 |
| Availability: | in stock |
| Prod. Code: | RS-EXMAN2-9 |
On this page you will find supplies that can be used for making your DIY wedding ring creations.
Expanding Ring Mandrel: The expanding ring mandrel is made from a mild steel, standard expanding arbor and machined for ring use. This item for ring mandrel sizes 2-9 and 6-13 has a 1/2" shank and will fit in a 1/2" drill chuck or other lathe chucks which can clamp to 1/2" diameter. For the larger size , 12-15 it will fit in to a 5/8" drill chuck or other lathe chucks. The expanding mandrel comes with its own hex key.
Simply chuck up the ring mandrel, slide on the ring core and tighten the hex key to secure the core from spinning. Use minimum pressure to keep the ring core from rotating on the mandrel. This will also ensure the mandrel does not distort the ring when clamped. The expanding ring mandrel will significantly reduce runout / concentricity issues between the wood band and metal core, which you would encounter when using wood jam chucks or expanding rubber sleeves (sanding sleeves).
It can be used for turning, sanding and finishing your ring creations. For those who make all wood rings, this is the perfect addition to your collection of tools.
Use care to not overexpand the mandrel which can cause permanent set in the diameter. If the mandrel does become 'overexpanded', simply remove the screw, compress the stepped segments together using a vice or plier to restore the original size.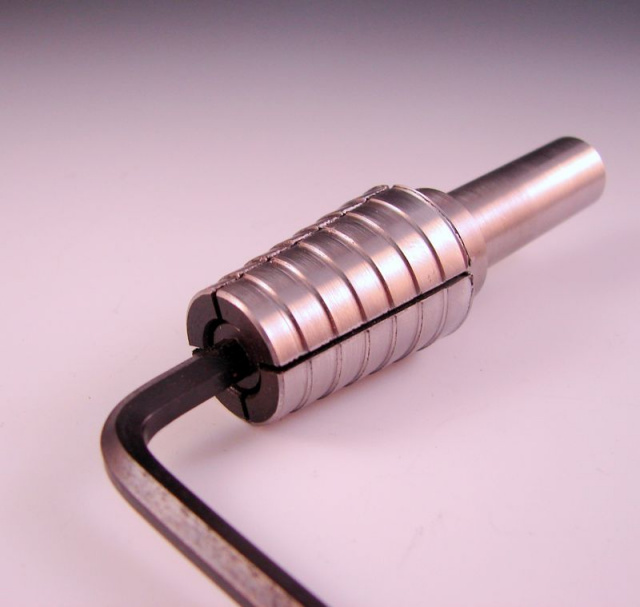 Ring Stand: Similar to our bangle stands, these ring stands are perfect for displaying your wood rings at Art & Craft shows, or just in your own home to highlight the beauty of your project.
Gift Box:
These cotton filled gift boxes are a great size for rings or pendants. They come in solid black or gold with a coffee colored bow.
Follow us for updates on upcoming sales, promotions, and new products on Instagram @wildwood_design
To Contact Us: Email us at Wildwooddesignsco@gmail.com
OUR PRODUCTS ARE DESIGNED AND MADE IN COLORADO